[8 Fun Teacher Side Hustles] Turn Your Passion into Cash
[8 Fun Teacher Side Hustles] Turn Your Passion into Cash
Teaching is, without a doubt, one of life's most noble and rewarding vocations. But, it's no secret that although the intrinsic rewards of teaching are great, they don't necessarily translate into a paycheck. So, what's a teacher to do when the standard salary isn't cutting it? You likely already have the skills and credentials needed for a part-time gig, or you may even have the connections to start up a business at home. Whether you're saving up for a big purchase, looking to pay off a loan, or just wanting some extra cash to throw at your bills every month, there's bound to be a fun side job that aligns to your interests.
Check out these eight interesting ways you can earn some side cash without ever having to feel like you're really working.
1. Rent out your reno room
So, the HGTV bug bit you, and now your guest room is #InstaWorthy. Why not turn your hard work into some extra funds? Airbnb offers insurance and charges guests tax directly, making it an easy-breezy way to capitalize on your interior decorating skills. Check out these awesome tips for ways to capitalize on your rental space to ensure that you have the most desirable listing on the block.
Viacom
2. Consign your closet
If you have a passion for fashion, selling what's in your wardrobe could be the perfect way not only to get you to clean out your closet but also to earn some extra dough. Sell the items that no longer spark joy for you through online resale shops like Poshmark or thredUP, or invite your friends on social media to shop your closet by posting pictures of items you're willing to sell.
Warner Bros.
3. Shop till you drop (for other people)
Enjoy the thrill of shopping with none of the guilt! Just like you can get paid to deliver food or other items for other people through services like Uber Eats, Postmates and DoorDash, you can also get paid to go full-on grocery shopping through services like Shipt and Instacart. Now, you can enjoy the pleasure of browsing the aisles of a grocery store and filling up your shopping cart without having to worry about how much you're spending because you'll be earning instead.
4. Become a tour guide
Does summer break leave you longing for that rush you get standing in front of a bunch of people and teaching them something new about something you're passionate about? Then, tour guiding might be right for you! As a teacher, you already have the speaking and storytelling skills that are the secret ingredients to any good tour, and you're a certified information sponge, making you the perfect fit to lead a group of tourists around an art museum, explain fermentation to curious patrons at your favorite brewery, or regale local lore to a curious crowd at a local historical landmark.
Comcast
5. Sell your crafty calligraphy
Everyone always says that teachers have the best handwriting! If bullet journaling, writing out place cards, and addressing holiday cards are some of your favorite activities, why not make some money doing it? Check out this article for tips on how to get started selling calligraphy. Before you know it, you could be the community go-to for handwritten wedding invites, address labels, and custom greeting cards!
6. Do voice-overs
Remember in The Little Mermaid when Ariel traded her voice to Ursula for legs? Well, if she had been smart, she could have just worked a side job as a voice-over actor, where she probably could have just saved up enough money to buy herself legs instead of bargaining with a sea witch. Voice-over (VO) acting is a fun way to earn money on your own schedule, and it makes for a great conversation topic at dinner parties. Also, as a teacher, you're already a skilled and articulate speaker who knows all the best tricks and tips for storytelling. Learn more about how to dabble in the VO biz here, and see if voice-over acting could be your next side gig.
Thalia De Jong
7. Edit papers—for fun!
It's OK; you can admit it—this is a safe space. You love grading your student's essays, don't you, Squidward?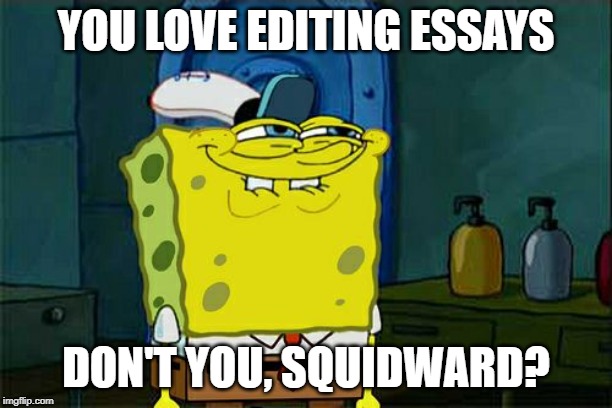 Freelance editing is the perfect way to transfer your skills and experience with proofreading and editing into cold, hard cash. A quick Google search will bring up pages and pages of want ads for freelance editing work—or you could always keep your services local and finally give the feature film script your brother-in-law wrote a readthrough in exchange for some moolah.
20th Century Fox Television
8. Refurbish furniture
Remember how much fun you had in shop class? The smell of wood, the therapeutic sounds of sanding and staining, and the thrill of admiring your completed work? Flipping or refurbishing furniture is a nostalgic hobby for many people—but it can also be a lucrative one. If you're the kind of person who looks at old or antique furniture and sees potential, then this could be the side hustle for you. This hobby has the added benefit of allowing you to work at your own pace. It is also the perfect excuse to stop by every antique show, garage sale and flea market in the area. Get in touch with your inner Joanna Gaines, and give it a try!
Discovery Inc.
Interested in more teacher-friendly side gigs to help you secure the bag this summer? Check out 10 more of the best teacher side hustles here!